---
11th of November, 1997
The weekend is over... We survived the Amiganica Hungarica! It was really cool! Many amigas and many amiga fan. Yes, like in heaven. :) Ofcourse beside many friends there was a little PPC "show" too. Well, that thing is damn fast...
Lord & Mr.Pixel were performing live. They were playin' amiga modules from various famous musicians like: Chorus & Sid, Scorpik, Bruce, etc.
All-in-all it was the biggest Amiga event of the year I suppose...
---
6th of November, 1997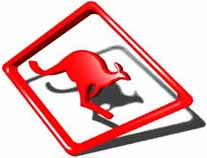 To prevent any misunderstanding I can say that the Impulse homepage will not form into a Kangooroo homepage! THIS is The Official Impulse homepage, and it'll be for as long as possible!!! Ofcourse there will be soon a Kangooroo homepage (official ofcoz! :)) too. But the URL is not yet available. Keep in on visiting this page, and you'll be informed on the Kangooroo one too!!!
---
5th of November, 1997
The homepage is going to GROW! It has got a 3D section now, and soon the archive section will be available too. Just to mention, the Gallery will be expanded too, and images will be downloadable in ORIGINIAL format!
---
1st of November, 1997
We had a cool meeting at Mr. Pixel's place. It was a nostalgic eve. :) We eat, drunk, spoke a lot. And also some "old" member showed up. It was really great...
---
23th of October, 1997

2001 is renamed to 2002 and it is still a live project, and it'll be released this year! Major enhancments done.
---
20th of October, 1997
Impulse is history by now (because former members left), but don't worry! The Kangooroo will be here soon to save the world! However this site won't be closed, and it'll grow, expand too...
---
28th of August, 1997
Rendall's slidewhow is out for both Amiga and PC, check it out!
---
13th of August, 1997
Rendall ex-Impulse won the Assembly '97 gfxcompo. Congratulations!;)
---
8th of August, 1997
The relase of the new Impulse demo 2001 is scheduled to the end ofthis year.
---
in June, 1997

New Impulse demo 2001 is under heavy construction. Eft, Beast, Mr.Pixel, Soldier & Mezon are developing it to be very-very good. EFTspeed-upshis routines to reach rthe desired quality for his needs!



[3D section] [Index] [News] [About] [Products] [Gallery] [Download] [Links]
---
| | | |
| --- | --- | --- |
| 1997 Impulse | | |